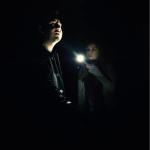 The whole story started in April 2014 when the first 10 minutes of a play I had written got picked for a public play reading by the Progressive Playwright event at The Tron. I still remember on the day having to run after work to the station, then jumping on a train to Glasgow and rushing to The Tron theatre, just in time to hear the reading. Then sitting in front of the audience, still a bit breathless, listening to feedback and answering questions. On the night, a member of the audience came up to me and said something that, in substance, meant "I liked your play. I'd like to stage it." This is how I met Sam Rowe who became the director of the completed play we brought to Glasgow on the 7th and 8th of April at Stereo.
The Fog tells the story of an entire city swallowed by a supernatural fog and how a little community sees its bonds slowly deteriorating. Surrounded by shadows and vanishing visions, all of its members start losing balance and question what exactly has brought them to stick together until now.
The Fog is also the story of how Scotland's educational and artistic networks offer incredible opportunities and material support for emerging theatre makers, wherever they are from. Arriving in Scotland two years ago, I encountered only open doors. After the Progressive Playwright event gave some visibility to my writing, through the Fife college I was awarded the Mary Leishman scholarship which funded the production. I was then given a chance through a funded place on the MLitt Playwriting and Dramaturgy course at University of Glasgow to develop my work and to use the department's amazing facilities to organise readings and rehearse the play.
We worked very hard on the production, assisted by several students from Glasgow University and using the most incredible cast of professional actors who were the first supporters of the play when it was read at The Tron. The show was a success, with very enthusiastic and encouraging response from both professionals and audience members. It's given me the confidence to move on to my next project and I now feel I'm here to stay!
Written By: Marie Yan, MLitt Playwriting and Dramaturgy