Rosie Coleman Collier, Emma Aars, Lucy Rose Cunningham (MLitt in Curatorial Practice & MLitt Art Writing postgraduates)
'Letters, with Love' received support from 'Thinking Culture', a cultural programme supported by the School of Culture & Creative Arts.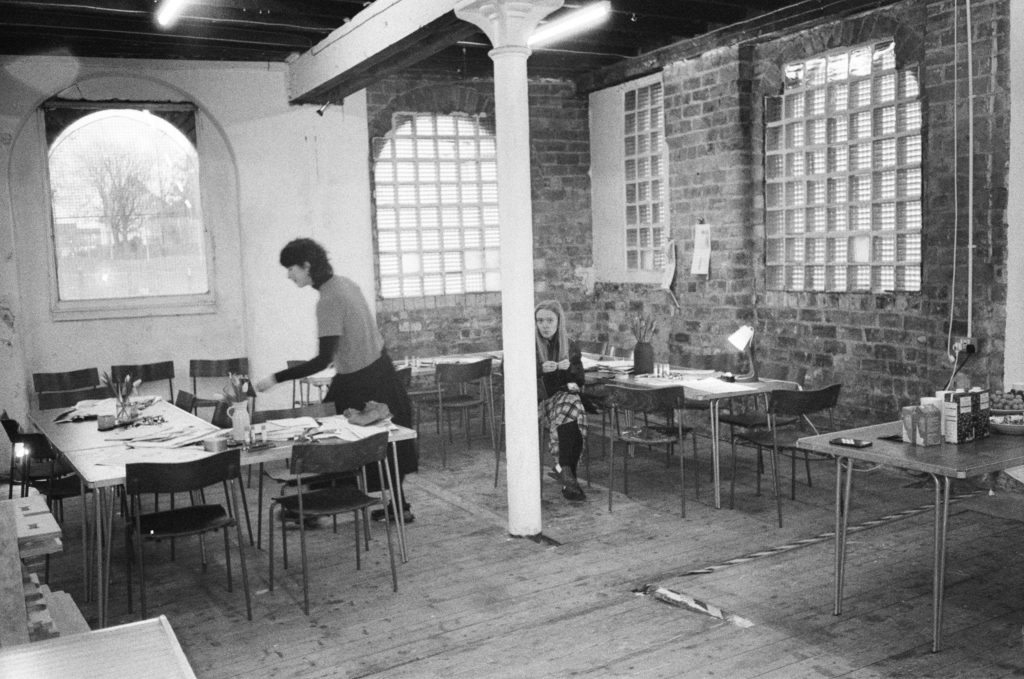 On Tuesday 7th February, we – Rosie Coleman Collier, Emma Aars and Lucy Rose Cunningham – hosted the first installment of our two-part project, Letters, with Love. Motivated by the work of 1970's U.S. arts collective Les Petites Bon-Bons, the project considered the place of writing with/for others, to invite radical care, intimacy and liberalism.
Taking place on the first floor of the Pipe Factory in Glasgow's East End, the workshop invited individuals to come together to create anonymous letters, addressed to an anonymous other. In the weeks before the workshop we spent time collating materials, many of which were kindly gifted to us from arts spaces across the city; old magazines from CCA, cut offs from GOOD PRESS's risograph printing service, recycled materials and scraps from the workshops at GSA.
Prompted by the materials, attendees arrived at tables where they were invited to cut, collage, overlay, write, stick, tie, reflect, overlap and consider. They left their final letter packages – anonymously signed – at the door when they left the workshop, ready to be circulated, opened and read out loud by someone else at our follow-up reading event later in February.
Many attendees stayed for the whole session, others dropped in and out. Conversations took place around the table whilst we wrote. Music was playing and refreshments were provided, fostering something of an embracing and reflective space. One that, though freezing cold on a February night, was warmed by the attentive, delicate act of writing and drafting together.
Shaped by the range of materials provided, the final letters became not only intimate musings and personal reflections, but standalone visual objects to be opened and explored. In preparing for the reading event, to take place the following week on Wednesday 15th February, we wanted to preserve the beauty of these letter packages, knowing they were soon to be untied and opened. We created scans of the letters as they existed and decorated the top floor of the Pipe Factory– where the reading event was held – with their images. Forming a backdrop behind where the letters would be read out loud, they took on a new dimension.
Albeit anonymously written, some letters were personal and honest reflections, written with a grandmother, a friend, or a past lover in mind. Other letters were written by fictional characters, like a prison wife writing to her numerous husbands in jail, or a horse writing about their travels, accompanied by a handmade map. Some letters didn't seem to be addressed to anyone in particular, but were rather tiny written and visual publications held by the format of an envelope, capturing exactly how an anonymous letter can feel personal and intimate due to the format its produced in, and the care put into its making.
A chance to write and read together, Letters, with Love was a unique interrogation into how we conduct closeness and connection. The workshop and reading event offered an introduction to a creative correspondence practice and gave time and space for collective writing within a close community-driven environment, fostering reciprocity, exchange and intimacy.