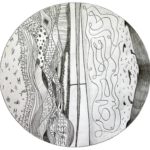 The penultimate piece in our Student Undergraduate Prize winner series comes from Music student Maria Mulvenna, who won the award with her composition Fever Dream: for Voice, Percussion, Violin and Cello. Here she reflects on her ideas, influences, and creative processes, which were both helped and hindered by the recent COVID-19 lockdowns.
---
When I first thought of the idea for my composition, I wanted to write for a larger ensemble and had a completely different picture of how the piece might sound. I always wanted to write for voice, percussion, and strings, but I had ideas of working with flute, clarinet, piano, glockenspiel, and timpani too. Although I based my composition on something I wrote myself, the final product was heavily influenced by listening to the work of other composers. We were set listening homework where I listened to music by Morton Feldman, Anahita Abbasi, Jennifer Walshe and Kate Soper. All these listening experiences helped mould my composition, but I was particularly inspired by Walshe's 'Physics for the Girl in the Street' (2007) and Soper's 'Voices from the Killing Jar' (2012). The use of extended techniques and unconventional practices in these pieces led me to work with a smaller ensemble and experiment more with different techniques on fewer instruments rather than trying to do so with a much larger ensemble.
---
---
I used a wide range of methods when composing, encouraged by the lectures and seminars delivered by the composition staff. Most of last year was dominated by lockdowns, where I was confined to my bedroom for long periods of time; this, I believe, both helped and hindered my compositional practices. It meant that I was without access to a piano, as I would usually book a practice room on campus to use one which tends to help me compose melodies and check harmonies. However, I did have access to my violin, voice, and bed, which definitely assisted me with this piece!
Some of the methods I would use were drawing out a graphic score (this is on the cover page of the score), improvising on the violin, and converting words into pitches through various processes. One night I even recorded a voice memo of myself sleeping to see what the sounds of a duvet and someone tossing and turning sounds like! The voice memo was over 6 hours long but luckily in the voice memos app I could see where the peaks in the audio were, so I skipped through it and didn't have to listen to the full 6 hours. I feel like if I was living normal life (not in lockdown) and able to go out and do things, I probably wouldn't have even considered recording myself whilst I was asleep for an assignment. I did doubt whether it would be useful but, in the end, it reassured me that the sounds I was trying to create in my composition were audible and 'musical' in their way.
---
---
---
---
Overall, the extent I went to trying and testing out musical ideas and material was extremely helpful, creating a range of different possibilities, enabling me to pick and choose how I wanted the piece to turn out. Looking back it feels like a unique if somewhat bizarre experience; I'm so glad I managed to create something productive out of it.
---
About Maria Mulvenna
Maria Mulvenna is in her final year of studying Music at the University of Glasgow. Born in Edinburgh, she moved to Glasgow in 2018 to begin her undergraduate study. Having played violin and piano since she was young, she has always had an interest in composing, as well as sonic arts and film music. She hopes to secure a job in the creative industries after graduating, and to keep on composing and travelling whenever possible!
About this Series
This piece is part of a series celebrating and showcasing the work of the 2020/21 Student Undergraduate Prize winners at the School of Culture and Creative Arts, awarded in recognition of excellence in the diverse and innovative modes of assessment our School offers. Their work captured experiences common to many of us over the last year or so, and inspired us as they explored new ways to be creative with their assessments. Strong themes that come through in these winning entries are isolation, emotions which touch on trauma, and the power of communication.