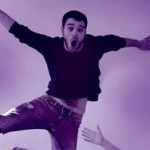 STaG (Student Theatre at Glasgow) is Glasgow's largest student theatre society. Overall we put on approximately twenty two plays a year. Most of the plays we put on are between 20-50 minutes in length. However, once a term we put on a full length show which has our largest budget and this show is called our 'Mainstage'. I am very proud to say I am directing our second mainstage of this year which is A Midsummer Night's Dream by William Shakespeare and which has received funding from the School of Culture and Creative Arts Creative Practice Fund.
The challenge of putting on a Shakespeare now is that everyone is so familiar with the text. It's hard to surprise an audience and show them something fresh. This is especially tricky when it comes to a comedy; everyone knows the punch line. I was curious to see how we could go about making one of the most famous comedies of all time remain funny.
I've been working with my cast now since January alongside my assistant director, Hanni Shinton and my stage manager, Eszter Jokay. We've been using physical theatre, barbershop quartets and enchanting visuals to really try and bring this play to life. Using physical theatre has been especially fun but also very tiring. I was inspired by Frantic Assembly's version of Othello. Only a few people in the cast had experience of physical theatre before so it was important to start the rehearsal process by doing a series of physical theatre workshops. We've been using jumps, turns, twists, lifts and the occasional forward roll to really enhance the humour of the script.
It's a show I'm delighted to say we're all very proud of and we cannot wait to perform it for an audience. The show runs from 23rd-25th March in the Glasgow School of Art.
Written By: Chloe Thomas, L2 Theatre Studies