On May 15th 2015, Film and Television Studies at the University of Glasgow hosted a one-day workshop on the subject of Film Tourism. Entitled "Developing Film Tourism: Theory and Practice," the workshop was co-organised by myself and Professor David Martin-Jones, and it aimed to enhance our understanding of film tourism by considering the resonances it has with other forms of tourism. We put on the workshop with the help of a number of postgraduate volunteers — many thanks to Frederic Brayard, Doug Mulliken, Jiaying Sim and Tony Yanick. The event was unusual (and very exciting!) in the way that it brought together a wide range of perspectives on tourism, both within and outside of academia. Topics discussed weren't limited to film and also considered other forms of tourism, including medical tourism, dark tourism, digital tourism and literary tourism (among others).
In the first panel, we heard from Rodanthi Tzanelli on the subject of digital and slum tourism after the release of Slumdog Millionaire (2008), followed by Meghann Ormond who made links between medical tourism and film tourism, and Donald Macleod who gave an anthropological perspective on film tourism and sustainability. The second panel was Scotland-focused: James Cateridge discussed TV and film tourism in Scotland inspired by Brave (2012), Balamory (2002-5), and Outlander (2014-); Lizelle Bisschoff compared the demographics of Scotland film festivals, including Edinburgh International Film Festival, Glasgow Film Festival, and her own Africa in Motion film festival; and Alan Riach talked about the long tradition of literary tourism and its continued influence in Scotland.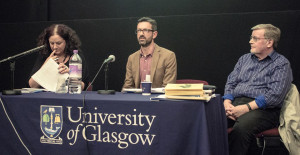 Panel 2 Q&A with Lizelle Bisschoff, James Cateridge, and Alan Riach
 Since those of us working in academia rarely hear from people actually working in film, the industry panel was a major highlight of the event. Visit Scotland's Jenni Steele talked about recent promotions focused on film and television tourism; my favourite was a campaign directed at the American Outlander audiences with the tagline "Give In to Your Kilty Pleasures." Anna Rathband from the National Trust of Scotland discussed filming locations in their properties around Scotland, which featured in films and shows such as Skyfall (2012), Under the Skin (2013), and Outlander (Outlander got plenty of attention at the event, which I think is indicative of its important role in Scottish tourism at the moment). Jennifer Reynolds from the Glasgow Film Office presented on filming locations in Glasgow and the processes involved in booking and planning location shooting around the city. The day finished with comments from respondents Timothy Edensor and Ysanne Holt, who brought more general issues from throughout the day into focus, followed by a lively round table discussion.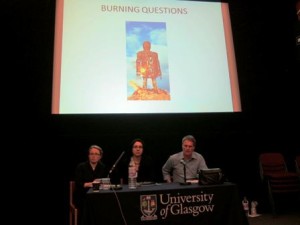 Meghann Ormond, Rodanthi Tzanelli, and Donald Macleod answer
some burning questions during Panel 1 Q&A
The interdisciplinary approach of the event was a bit of an experiment, the goal of which was to explore possible resonances between different ways of approaching film tourism. I think it was a great success! We learned that something can be gained from comparing film tourism to medical tourism, for example, or that film tourism raises a number of issues related to sustainability. There was plenty to talk about during the round table, and the conversation lasted through the wine reception and well into dinner. I would really like to see more events bridging the gap between theory and practice, as well as between disciplines; the success of the event shows that such things are not only possible, but also useful and inspiring!
Written by Chelsea Birks, PhD Candidate, Film and Television Studies