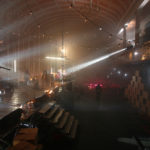 MLitt Film & TV student Madeline Chandler tells us about the recent student visit to 'Film City Glasgow', a vibrant hub which supports the creative industries.
The MLitt Film and Television Studies students just had the distinct pleasure of attending a tour of Film City Glasgow. To start off, being able to get into the beautiful building and see the rich history of Govan was treat enough. The historic Govan Town Hall was refurbished into the company's offices and production space. According to Film City's website: 'The facility comprises of over 12,000 sq. ft. of production office space, a 5,000 sq. ft. studio/build space, workshop areas, rehearsal/meeting rooms, café, and 10,000 sq. ft. of creative business offices, now home to over 25 permanent tenants from the screen and wider creative industries.' The building and production spaces were beautiful and the information given to the students was invaluable.
At the beginning of the tour, Tiernan Kelly, Director of Film City, greeted the students and brought us into a grand ballroom of sorts. Kelly explained the history of the building and the variety of shoots that take place. Keeping the tour distinctly Scottish, Kelly showed us clips of Filth starring James McAvoy on his iPad,
showing us the transformation the room we were standing was able to go through for different productions. Kelly showed us clips of other shows and movies, explaining how companies are able to utilise and reimagine the spaces that are made available to them.
We then moved on to another large theatre which has been used for several BBC productions and films. Once again, Kelly showed clips on his iPad so we could see how this space, which at the time looked like an abandoned storage room, can become virtually anything. It was a particular treat to be able to see how they utilise an old organ loft behind the stage for several different purposes, including an entrance to an underground bunker. They also repurposed the loft with a stairwell for entrances during Iron Chef.
Kelly then continued the tour onto the incredibly impressive Dolby Mixing Studio. He informed us of the privilege of being able to stand in a room like this, as it was the first in the UK to be built and only the third in the world. The refurbishment of the town hall was particularly difficult for this room, as it needed to have incredibly specific acoustic properties. They gutted the centre of the building and isolated the room in its own steel womb to make the sound work properly. While the room was oddly shaped with some theatre seating at the front, it was astounding to see how post-production works, citing both Brave (the Pixar film) and Halo (the video game) as two hugely popular, yet vastly different, media contents that had sound work done in that studio.
Kelly then ushered us into a meeting space where he explained the funding walls that Film City Glasgow has been coming up against recently. Kelly showed us where there has been proposed studio spaces to allow Glasgow to flourish as a creative city, similarly to Belfast or Paris, where major productions are taking place. While Glasgow has been used for blockbusters such as World War Z and an upcoming Avengers film, Kelly explained that if we had more studio space, productions would ground themselves firmly in Glasgow. We gained invaluable information learning how these proposals are made, what kind of compromises are reached, and what the future of the industry in Glasgow looks like.
We were then joined by Brian Coffey of Sigma Films in which the students were given priceless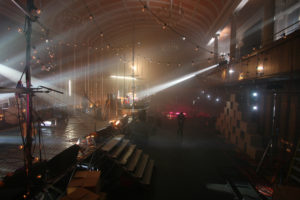 information about the practical side of filmmaking. We looked at the trailer for his film Citadel and were told about the difficulties of finding directors, budgets, and filming locations. Coffey told us many stories about having to compromise specifically on locations, such as changing a large train scene to a bus scene to cut costs. He also told us stories of Glasgow's famous weather and how people have to remain open-minded to the idea of changing the day's schedule at the drop of a hat.
Coffey then got personal and gave us some insight into what it is like to work in the industry, rubbing elbows with directors and producers, and how you will someday get to the point where you can say 'no', but you will spend a long time working with people you may not like. He gave us incredible insight into the realities of how long it takes to get a film from page to screen, and how even if actors and a director are committed, films still may not get made. He was honest and transparent with us about the realities of working in the entertainment industry.
We were then given the chance to ask questions. However, most of the focus was around how we utilise the theory driven curricula we are given at the Masters level and make that function in the practical world. Both Coffey and Kelly were very straightforward with us, saying that experience and networking is what is important. Begin taking opportunities and volunteering places. Get our names out there and participate in things. We need to build up our CVs and become someone who is recognisable.
On the bus ride back, it seemed to be a general consensus that the tour of Film City was one of the best days of university so far this year and everyone is excited to continue to see where our programme takes us.
Check out Film City Glasgow's website: http://www.filmcityglasgow.com/