Master's student Daniel Boden from our MLitt Playwriting and Dramaturgy programme tells us about his experience working at The Art of Care-full Practice symposium.
Last month, I had the opportunity to attend and serve as helper for The Art of Care-full Practice: Taking care of others and the self in participatory performance. This symposium, organised as a collaboration between University of Glasgow, Glasgow School of Art, Royal Conservatoire of Scotland, and the Take Me Somewhere festival, gave me and other scholars and artists an opportunity to reflect on how care and caring can be used in performance.
Perhaps the symposium looked at not just how it can be used, but how it should be used. For example, what are the ethics of care? What are the aims of care? What does care look like? How to best stage or perform care? Does care exist in only intimate and participatory performances?
In the scope of my blog post, I don't think I'll be able to answer all these questions. The symposium didn't necessarily answer these questions either. Rather it provoked us to ask these questions. After an opening reading of papers—covering John Berger, psychoanalysis, and performance working with disabled performers, among other topics—we broke out into groups of ten to have open discussions around a round (or square!) table to talk about care.
This, itself, was an exercise in care, for we had to pay attention to each other, listen, learn to yield, ask and answer questions, provoke, and be provoked in a nurturing, safe environment. In addition to speaking and listening, we were also invited to scrawl our notes on long pieces of paper rolled out over our tables. These became an informal record of our collective reflection in care.
While there were many meaningful portions of the day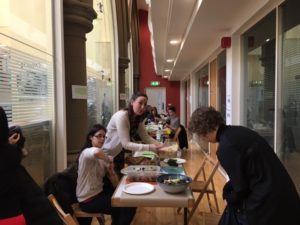 (a retrospective of Adrian Howells' work, a live performance of bird calls by Nic Green and her singers, and a lunch in which each symposium participant contributed one ingredient to a salad), these early discussions stood out to me. I took a bit of a backseat and tried to listen. I was looking to understand what we really meant by care and I noted that we often used it in some sort of reactive, reparative way. Consider these sentences:
She took care to lock all the doors to the house. Care is the absence of neglect.
He cared for the patient's wound. Care is a way of repairing damage.
She cared for her 67 Mustang's motor. Care is the avoidance of harm.
These sentences were not actually said at our round table, but similar sentences were. And the thing that I found that they had in common was that they were defining care in terms of what it was not or in terms of what it aimed to correct. I thought, then, of what a sentence might look like that tries to use care for what it is (and not as the opposite of what it is not). Let us take this very simple sentence:
I care for you.
Here, care is used to mean "to take thought for, provide for, look after, take care of" (OED def. 3) or "To have regard, fondness, or attachment for" (OED def. 5b). There is something proactive, emotional, personal, and almost altruistic in this usage and these definitions. It was not the aim of the symposium to force any one definition of care on the participants; but for me, I find that the care that we should be striving for in and out of performance contexts is this proactive one.