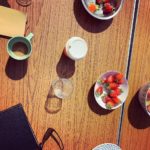 In May 2019 Dr Stephen Greer, Senior Lecturer in Theatre Practices at the University of Glasgow, hosted the Live Art Lunch series at Take Me Somewhere festival. His aim was to explore new approaches to exchanging ideas outside of the usual academic formats. Here he shares some food for thought on the experience.
The Live Art Lunch series – staged at Tramway on Glasgow's south side as part of Take Me Somewhere festival – was designed to create an informal, relaxed space for artists and audiences to talk about the festival's programme and their responses to it.
In the first lunch, conversation with The Famous Lauren Barri Holstein and Nima Séne explored pop culture, persona and power, and their differing approaches to making performance. Hosted by Anita Clark of The Workroom – and sitting outside in the Tramway's Hidden Garden in unexpectedly brilliant sunshine – we talked about the ways that pop's mainstream appeal may be double-edged, creating spaces for radical approaches to identity and the body while also reproducing stereotypical (and potentially regressive) images of race and sexuality. How can performance take that language and open it up to new meaning, for new audiences?
In the second lunch, we turned to explore questions of risk, obedience and disobedience within performance involving young people, with artists Ásrún Magnúsdóttir (whose show Listening Party was staged at Platform with a group of young people from Easterhouse) and Lucy Gaizely and Gary Gardiner of 21Common (whose new show In The Interest Of Health And Safety Can Patrons Kindly Supervise Their Children At All Times… had opened that night). Here, our conversations often touched on agency – and what relationships of care and control might exist in practice with younger people, especially when attempting to create spaces for their self-expression.
These conversations picked up threads from the accompanying Live Art Scotland forum, held at the University of Glasgow's Gilmorehill Halls at the end of festival's first week and attended by more than 60 participants from across the UK, including Glasgow, London, Birmingham, Edinburgh, Cambridge, Inverness and Manchester. Here, artists and academics offered short provocations on what risk and resilience might mean in their own practice – with performance-makers Nic Green and Craig Manson exchanging mutual letters of support, Dee Heddon reflecting on her mentorship of Adrian Howells, John Dummett meditating on risk and language, and Karl Talor and LJ Findlay-Walsh exploring the festival's plans for the future. The session also saw Rhiannon Armstrong – recipient of the 2019 Adrian Howells Award for Intimate Performance – sharing early elements of her new project.
Theatre Studies at Glasgow's collaboration with 'Take Me Somewhere' will continue next year as we explore new formats for dialogue and exchange, in and around the festival, and across the city.
About the Author
Dr Steve Greer is Senior Lecturer in Theatre Practices at the University of Glasgow where his research focuses on the intersection of queer theories, contemporary performance and cultural production. He is the author of Contemporary British Queer Performance (Palgrave 2012) and Queer exceptions: solo performance in neoliberal times (Manchester University Press 2018). His latest project focuses on Live Art in Scotland.
Live Art Lunches was supported by the University of Glasgow's School of Culture & Creative Arts as part of its 2018/19 season on the theme 'Inclusive/Exclusive'.