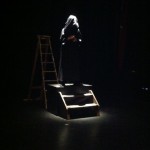 The idea for a scratch night began last fall, as we began to create short plays and performances as part of our coursework. While it was wonderful to get together and read these pieces at smaller scratch nights, we yearned to really put these works on their feet, to put them in a space where we could fully bring them to life, complete with lights and sound. Hence, this scratch night was born.
Although the original vision for this event included many more submissions, we loved the intimacy of having only two performances – one by a single playwright, and one devised. This created a wonderful dynamic for the evening, allowing each piece to stand out against the other. Here are brief synopses of the two works:
The Light Keeper
By Rebecca McCallum (MLitt Playwriting and Dramaturgy)
Directed by Roisin Kelly
The Light Keeper is a twenty-minute play set in nineteenth-century Scotland. Three lighthouse men face an impending storm whilst surrounded by the sea at Bellrock Lighthouse. Which of the men will embrace this challenge and stand firm when faced with responsibility and his destiny?
This play featured some wonderful sea shanties – performed live by the actors – and innovative staging to create a lighthouse and storm on the James Arnott stage. It delicately balanced moments of gaiety and despair amidst such a terrifying predicament.
Heroes (I)
By Marie Yan (MLitt Playwriting and Dramaturgy) and Raquel Grela
This piece is a work-in-progress that is part of Marie's ongoing research on performing bodies and voices on the contemporary stage. It is a devised performance that attempts to transform the stage into a laboratory where the hero/heroine emerges. What does a hero look like? When do they appear? Who creates them? Can we believe them?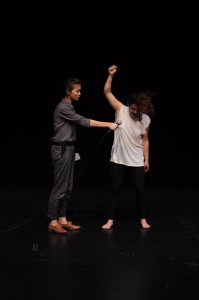 Its innovative use of sound, light, and space – as well as its content – really makes the spectator think about his/her own relationship to the heroes in contemporary society. Just from this small portion of this work in progress, it is clear that Heroes (I) will be a very interesting piece when completed.
Thanks to the Creative Practices Fund and Tony Sweeten for making this event possible.
Written by: Elspeth Sweatman, MLitt Playwriting and Dramaturgy