Each year, a prize is awarded to our top performers on our postgraduate taught programmes. This year, the prize has been shared between Katie Lombardo (MLitt Art History: Renaissance) and Ilia Ryzhenko (MLitt Film & Television Studies), who both achieved outstanding results in their dissertations. We spoke to Katie and Ilia to find out what drew them to Glasgow and what's next in store for them.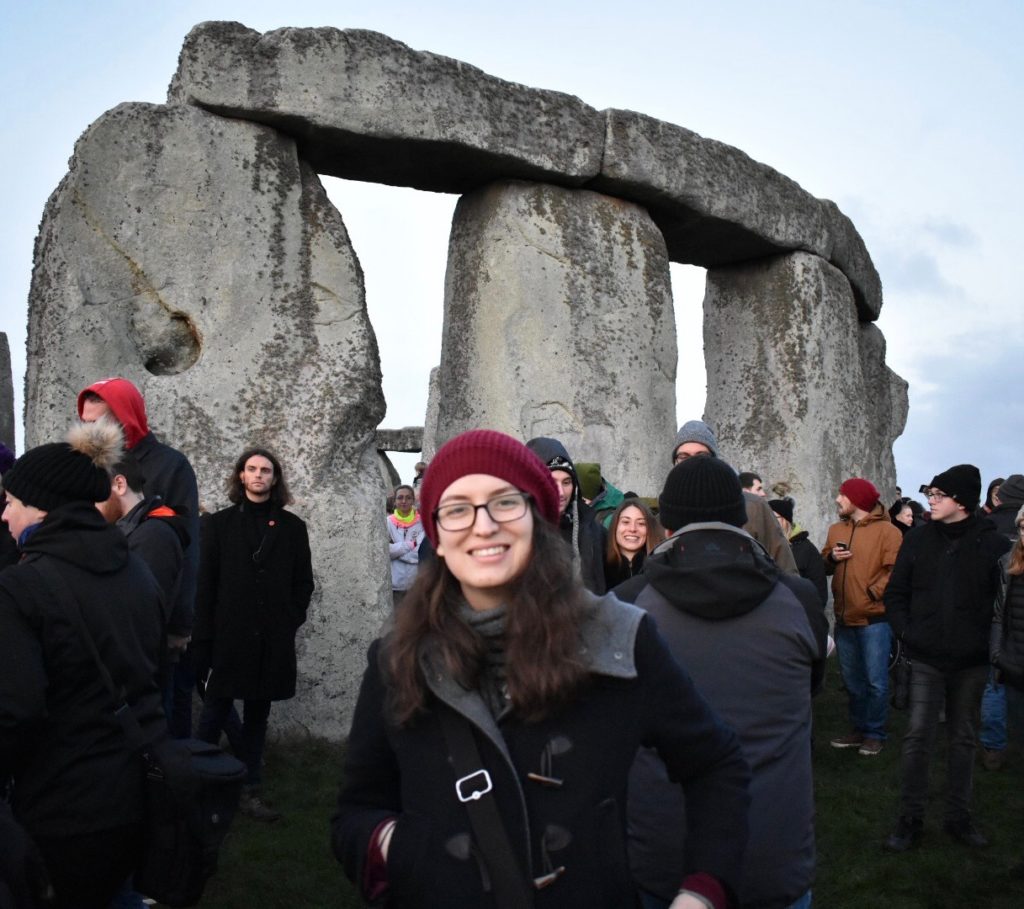 Hi Katie and Ilia, tell us a bit about yourselves!
K: I'm Katie and I'm originally from Long Island, New York! I've been interested in art history and film for as long as I can remember, which led me to study both as an undergrad at Oberlin College. I fell in love with the Renaissance when I studied abroad in Italy, and that ultimately led me here, to Glasgow, where I earned an MLitt in Renaissance Art History! Outside of my academic interests I like gluten free baking and eating, reading and traveling. I always tell people that my main interest is 'looking at things'; museums, art, movies, television, theater, concerts, you name it, I've probably got my eyes glued to it!
I: I'm a Russian student from St Petersburg, who did his bachelor's in Marketing, which is perhaps the most unrelated discipline to Film and Television Studies that I did here at the University of Glasgow. Although I was always interested in the Arts and art theory, I was quite cautious of settling for a degree like that for my bachelor's out of employment-related fears and such – but I do regret not taking the step toward what was obviously my interest earlier on. I couldn't be happier that I decided to go to UofG, and I'm really grateful that the university gave me a chance here.
What made you choose Glasgow?

K: Glasgow's collections, both at the Hunterian Museums and in Archives and Special Collections, were the main reason I wanted to come here. I loved the idea of studying at an ancient university, and was excited by the prospect of being able to work with items that had been amassed over the University's long history. The library's incunabula, emblem books and manuscripts were particularly alluring, and I was lucky enough to get to work with a manuscript, MS Hunter 252, for my work placement project. I loved it so much I even wrote my dissertation about it! Plus, Glasgow has a really great cultural scene, with plenty of theater, film and music events happening all the time. It's hard to keep up!
I: While I obviously knew that the University of Glasgow is an established and well-ranked university, I've always been sceptical of things such as reputation or ratings, so it was a bit of a shot in the dark when I applied. I was planning to balance out my bachelor's, which I got in a ultra-modern-type-glass-skyscraper new university, with one that would be more grounded in a sort of classical education system. I had a chance to speak to Dr Bisschoff about a year before I applied, so I asked her all kinds of questions about the programme and the teaching staff – that's what got me sold.
What's been your best experience in the city so far?
K: There are so many that it's hard to pick just one! One of the first weeks I was here, I walked with a friend through the city centre and stumbled upon a lot of the city's wonderful street art. Even after living here for a year, I'm still finding new pieces I didn't know existed. I found this monochrome alligator painted on an underpass the other day! It's such a unique part of living here that makes me so happy. Getting a tour of Kelvingrove's arms and armor collection from its curator in one of my courses was great, too! And I really love everything about the city around Christmas—the markets, having a flock of Santas run a 5K past you on a cold Saturday morning, even Central Station's It's a Wonderful Life themed platform décor last year—I love all of it!
You can get a free tour of the Glasgow City Chambers building every day, and it's definitely been one of the highlights of the architecture here! There's so much marble and one room is decorated by the Glasgow Boys! It's an underappreciated gem, for sure.
Artemisia Gentileschi's "Self Portrait as Saint Catherine of Alexandria" going on tour and landing at the Glasgow Women's Library before it took its permanent place in the National Gallery in London was definitely a memorable art historical experience! It's really interesting to see masterworks outside of their typical museum contexts, and the Women's Library is such a great institution!
On a personal note, there seems to be a trend at the University where people hire alpacas to come to campus to fundraise for various causes, and is possibly the best fundraising technique I've ever seen! Who doesn't love alpacas? I've also taken up bouldering as a hobby recently, which is a lot of fun and there are a bunch of places to do it here!
I: Glasgow has a lot going on, so it's a little bit difficult at times to distinguish well-organised and interesting events from those that are a bit underwhelming, and I've had experience attending both of these types. I'd say my favourite experience in Glasgow was attending an opening night at the Hunterian Art Gallery for one of their recent exhibitions. I appreciate the confidence with which the university handles art lectures and displays and I always feel like events such as these are extremely welcoming to those whose interested in art is not necessarily backed up by immense erudition and knowledge of the artistic conventions/contexts.
What are your future plans?
K: I'm currently pursuing an MBA here at UofG because I loved the city so much I didn't want to leave! I'm hoping to combine the business knowledge I'm gaining with my passion for the arts and work in some sort of arts management or curatorial position in the future. I'd love to one day open my own film production company, and maybe make a series of short films based on the stories in MS Hunter 252! The possibilities seem limitless right now!! In the short term, I'm looking forward to getting to explore more during Christmas break and even finding some time to go see a movie or two—such a luxury when you're a student!
I: I'm currently applying for PhD programmes all over the UK and hoping to begin my research (which is building on what I'd done for my master's dissertation) in October 2020. Of course, I'm applying to the University of Glasgow once again and hoping that my recent graduation from it was not my last one.
Congratulations once again, Katie and Ilia!