PhD candidate Jenny Knotts tells us about her research into the history of Glasgow's Citizens Theatre.
My Practice-as- Research PhD, Play/writing histories: Navigating the Personal, Public and Institutional stories of Theatre Space. An Architextural study of the Citizens Theatre combines playwriting practice and architectural theory to explore hidden histories of Glasgow's Citizens Theatre, whilst also seeking to develop a methodology for a new mode of playwriting called 'architexting'.
The Citizens Theatre has been the most significant producing theatre on the west coast of Scotland since its inception in 1943. In 1945, the company moved to its current location in the Gorbals and in June of this year, the theatre will undergo the most significant redevelopment in its history. For two years creative operations will be displaced from their Gorbals locale to Tramway. This means that spaces occupied by staff, patrons and artists for several decades will soon be repurposed or disappear entirely. My research seeks to reveal, explore and preserve these layers of history through playwriting.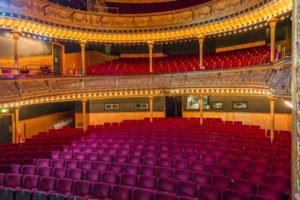 Over the last six months I have conducted interviews with past and present staff members, artists, and patrons of the Citizens Theatre. These oral histories, mostly recorded in situ whilst walking around the theatre, betray a rich tapestry of lived experiences which are, I believe, of considerable social, cultural and political significance. In addition to these interviews, I facilitated workshops for young people, most of whom were Kids@Citz drama class participants, to gather qualitative date about their experiences of the building. Part of this workshop involved an 'alternative building tour' and an opportunity for the children to flex their architectural skills as they created drawings or 3D models of their 'dream theatre.'
To date, information has been collected from over sixty participants, ranging in age from six years to ninety-nine, and including patrons, ushers, community collective members and artistic director of thirty-four years, Giles Havergal (1969-2003). I occupy a unique position to my subject, having a long standing connection to the Citizens Theatre. I have been a member of staff at the theatre since 2004 and the ninth member of my family to work there since the 1960s. As such, my interviewees also included family members, friends and colleagues. Through my fieldwork I have also uncovered some of my own family history – such as discovering the spot in the building my parents first met and conducting (separate) interviews with them there.
These testimonies have been supplemented with data gathered from several key collections in the Scottish Theatre Archive located in the University of Glasgow's Special Collections, namely the Citizens Theatre Archive, Giles Havergal Collection and the James Bridie Collection.   On completion of my PhD almost all of my oral histories will be donated to the Scottish Theatre Archive to preserve these previously untold histories for future researchers and audiences as the Citizens Theatre looks forward to a new era of creating world-class performance in a brand new building.
Jenny Knotts, PhD candidate in Theatre Studies