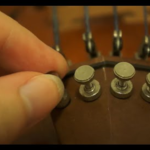 Our showcase of Student Undergraduate Prize winners continues with 美 (beautiful), an audiovisual composition complete with an introduction from the composer herself, Angela Ng. As Angela explains, the piece – composed for Mezzo-Soprano, Glockenspiel, Violin and Piano – explores the 'before', 'during' and 'after' of a music performance through a unique lens.
---
---
The score for 美 is also available to view here. Enjoy!
---
About Angela Ng
Ng Weihan, Angela is a computing science and music student at the University of Glasgow, currently also pursuing her GoAbroad at Seoul National University in South Korea. She is deeply interested in the applications of both technology and music, in ways where these fields can positively influence people's lives. When she is not to be found musing over music or technology, she is a baker, writer, and photographer. You'll find her @awn0110 on Instagram, and can follow her GoAbroad adventure at awn0110.medium.com
About this Series
This piece is part of a series celebrating and showcasing the work of the 2020/21 Student Undergraduate Prize winners at the School of Culture and Creative Arts, awarded in recognition of excellence in the diverse and innovative modes of assessment our School offers. Their work captured experiences common to many of us over the last year or so, and inspired us as they explored new ways to be creative with their assessments. Strong themes that come through in these winning entries are isolation, emotions which touch on trauma, and the power of communication.